"As I concentrated on these forms in the middle of apartment buildings, in courtyards, and in public squares, I felt as though a subterranean civilisation had sprung up from the ground."
Paul Virilio (1994) Bunker Archeology(Princeton Architectural Press, Princeton, NY), P.12
This blog is an attempt to come to terms with painted cannons. A recent trip to a conference in Portugal brought me into a series of encounters with four former coast artillery emplacements, their bunkers and their painted guns. The details of these places and their roles in guarding the approaches to the harbours of Lisbon and Setúbal as part of the mid Twentieth Century 'Plan Barron' will remain to be substantively addressed on another occasion.
What I want to unpack today is more universal, more phenomenological. I want to make sense of my serial encounter with 'big guns' across the four sites, that each (but differently) emphasised to me the role of paint in the present manifestations of these structures.
We will start this meditation on paint and coastal artillery with a painted picture of a cannon: John Minton's (1953) Portuguese Cannon, Mazagan, Morocco, painted in 1953.
Looking closely at the barrel of the cannon we see the patina, and this is an effect created with paint. But we see it (and the broken gun carriage) and we think of rust, decay, disempowerment. In the Tate (n.d.) commentator's view we see Minton signalling (and materialising) the stretched-across-time (and now aged) effects of colonisation (the fortress dates from shortly after the Portuguese invaded the area in 1502).
Here then we have two intertwined meaning-making processes: the symbolic potency of cannon (what they may stand for) and the physical fact and form of cannon and their not-quite-as stable-as-we-think presence over time materiality.
In launching its 'Save our Cannon' campaign in 2018 English Heritage drew together these two aspects, asserting the heritage-value of coastal cannon as "precious objects, vital alongside our castles and fortifications in telling the story of England as an island nation" (English Heritage, 2018) and then raising the spectre of the material vulnerability of these sturdy-seeming structures, for "coastal guns are regularly battered by strong winds blowing corrosive moisture and salt spray over then which means that, untreated, they can corrode 20 times faster than those just a mile or so inland." (English Heritage, 2018).
Big guns (and cannon in particular) are a quiet but ubiquitous feature of heritage sites. Sometimes the guns are survivals from the site's former defensive purpose, at other times they are interposed. Think for example of cannon encountered at stately homes which speak to former owners' colonial campaigns 'abroad' rather than the original defence of the cannon's new-found home.
And in other modes cannon become appropriated as a surface to be written upon, a scribble pad to articulate new (and sometimes fleeting) meanings. Take for example the 1797 naval cannon in given Tufts University in 1956 and which since the era of the Vietnam war has been a beacon of 'multilayered meaning' (Ferguson 2018). As a focal point for anti-war protest the cannon was removed from display between in the mid 1960s. It was reinstated in 1977 following a campaign by alumni, but then painted by a protestor opposing the conferral of an honorary degree upon Imelda Marcos. Almost immediately it was repainted by counter-protestors. Thereafter it became a canvass for successive paintings, accruing over 1,000 coats of paint. A recent stripping of the accumulated paint players took contractors six weeks to accomplish, as they closely worked through the layers, hacking off chunks of multicolour paint, some of which ended up in the hands of the University's art collections registrar, Laura C. McDonald: "we're object people – we love objects – and we were amazed that, through the simple act of repeatedly painting an object over and over, the paint had become an object, with a top and bottom, cross-sections and colors. It was something you just wanted to look at and hold" (Ferguson, 2018).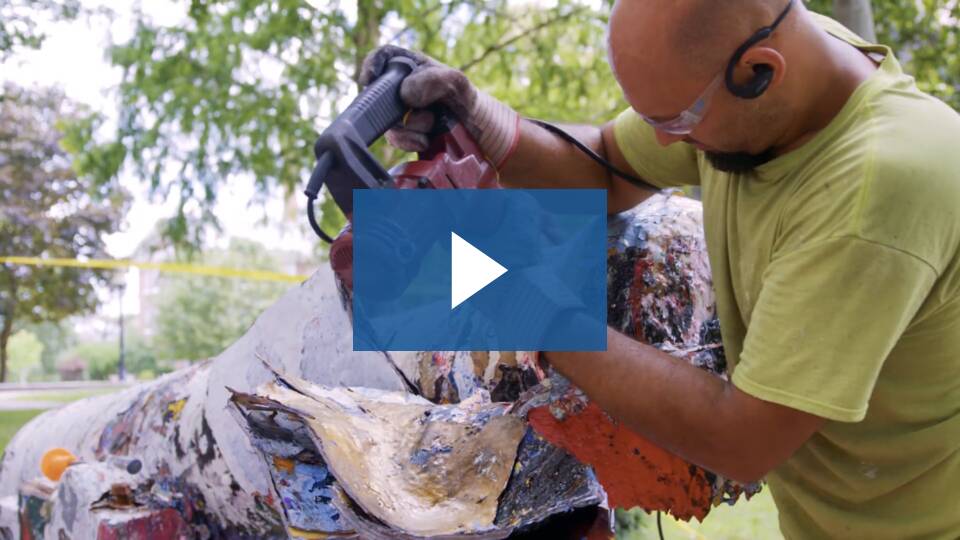 Ferguson's account of the refurbishment work suggests broad support not just for the stripping away of the paint layers – but also for the iterative work that the successive paintings represented. However, she also points to the guarding necessary to preserve one iteration of the paint scheme (for example, on the eve of a sporting event). As one defender put it: "we organized guarding shifts in an Excel spreadsheet, and divvied up blankets, sleeping bags, snacks, hot cocoa…several groups tried to either bribe or non-maliciously attack us, but we fended them off. You might think painting the cannon is easy, but nothing about the cannon is that simple". (Ferguson, 2018).
And in other recent instance of US cannon-contestation a homeless man was seemingly paid by a protester to deface a Civil War era cannon in Mobile, Alabama that had been painted in rainbow hues in celebration of Pride month, with the blessing of the city officials. The protestor's colour of choice was black paint: perhaps seeking to restore the cannon to its original military colour scheme (Mobile Real Time News, 2022).
Cannons then can become a canvass onto which both symbolic notions of identity are projected and enacted with paint. They are also chunky metal objects which have strange sculpture-like, phenomenological qualities.
My recent encounters with Twentieth century cannon around Lisbon brought me to extant gun emplacements in various states of abandonment (and not always ruination). At some sites the emplacements were in near pristine condition (despite having been decommissioned from military service in the 1990s) – due to still being on sites under the care and maintenance of veterans (or the military itself) elsewhere the guns had become blank canvasses for colourful graffiti. But at each site paint was at work, either holding these guns in their original mode, or distorting their form and purpose far away from military uses.
It would be easy to ascribe an anti-military purpose to the graffiti-covered state of guns at other, unguarded, sites – but very little of the paint added to these structures was a commentary upon what the guns had been (or arguably still were). Graffiti of unattended flat surfaces in the Lisbon area seems to be a fairly ubiquitous thing – this graffiti was no more a protest against militarism than an equivalent image painted at the rear of a supermarket should be taken as a critique of consumer capitalism. And there was nothing final (and everything provisional) about these continually overlain and overpainted graffiti at these unguarded sites.
If this painting was an instance of what Giorgio Agamben (2006) has called 'profanation' then it is an example of how the effect of profanation (moving something out of a cherished and foregrounded state into something more prosaic and unremarkable) is not dependent upon a particular motive to bring that about. Instead, the profanation can simply be the side-effect of a new use having been found for the thing, its place and/or its surfaces. Indeed, only one graffiti image seemed to directly engage with form of the gun (below) all other graffiti ignored the three-dimensional form of the gun emplacement, treating the surfaces instead opportunistically, and simplistically, as flat 'canvasses'.
Meanwhile, at the 'pristine' emplacements the fresh-looking, super-thick and uniform grey-green paint communicated order and a timelessness: provided this paint continues to be applied this scrupulously, this gun will remain 'as-is' (with the clarity of its 'gun' identity unfettered) forever.
But in either case the clue to these gun emplacements' survival is the paint. Without regular painting and overpainting by either crew (the military or the graffiti brigade) these structures would succumb to entropy, especially in salty, coastal air.
I hear talk of unease in the heritage sector about the fetishization of bladed weapons within similar presentations of 'our' island story. But this press release (and its connected campaign) suggests no squeamishness about coast artillery. In part perhaps this reflects the 'defensive' nature of that type of gun fortification, but the outbreak of a new artillery-based war in eastern Ukraine makes in harder to unquestioningly 'love your local cannon'.
And yet, once again, I find the phenomenological taking over. I'm tumbled back to visceral recollections of childhood: of super-thick paint on myriad tanks, planes and warships presented to me as places of curious encounter and clambering during 'Open Days'; of the chipped paint of the sea mine sitting innocently as a tourist 'attraction' on the seafront promenade; and of the feverish dreams of the anticipatory child the night before a visit to Salisbury Plane to clamber into the wrecked hulks of exploded tanks. It is the overwhelming impression of being inside a machine, of metal wrought into shapes and sizes larger than any everyday from and encounter: these were the strongest impressions stirred by my trips around the Portuguese gun emplacements.
In short, the mere presence of a gun signals something. But what that thing is seems to be somewhat elusive (or at least multitudinous). A cannon can summon an impression of the past. Or it can be a less certain phenomenological object – something large, unusual, and distorting expectations of local sound and temperature (think the sounds of struck cannon, and of the colder (or hotter) surfaces of the cannon than of its surroundings).
Cannons sit in a family of objects that register in multiple ways, and this is why I can't make up my mind about my encounters with these Portuguese guns. Should I approach them as strange, alien objects that leave the mind and body to ponder metaphorically. Or should I situate them squarely in in a context – read them as materialisations of militarism and celebrate their decline (or survival) accordingly?
References
Agamben, Giorgio (2006) Profanations. New York: Zone Books. (trans Jeff Fort).
English Heritage (2018) 'Save our Cannons' https://www.english-heritage.org.uk/about-us/search-news/save-our-cannons/ (press release, 29-3-2018)
Ferguson, Laura (2018) 'A Thousand coats of paint: Restoring the Tufts cannon', Tufts Now: https://now.tufts.edu/2018/09/05/thousand-coats-paint
Mobile Real Time News (2022) 'Rainbow Pride paint scheme defaced on Mobile's landmark cannon' Alabama.com https://www.al.com/news/mobile/2022/06/rainbow-pride-paint-scheme-defaced-on-mobiles-landmark-cannon.html
Tate (n.d.) John Minton – Portuguese Cannon, Mazagan, Morocco (1953) – https://www.tate.org.uk/art/artworks/minton-portuguese-cannon-mazagan-morocco-t00159